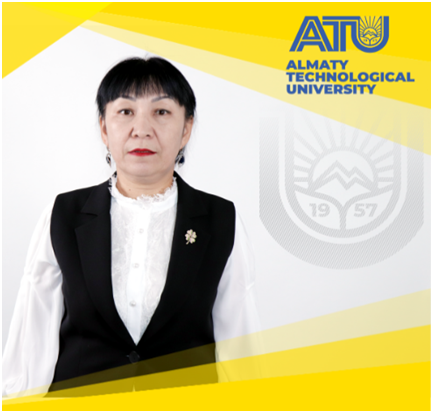 Head of the Department — Abzhanova Sholpan Amangeldykyzy
Candidate of Technical Sciences, Associate Professor of ATU
Phone:
8 (727) 396-71-33 (ext. 120)
E-mail:
sholpan-ab@mail.ru
Food Biotechnology is a branch of Biotechnology that develops the theory and practice of creating/producing food products for general, therapeutic and preventive purposes and special orientation.
The Department of Food Biotechnology was founded in 1995. The first heads of the Department were: Doctor of Chemical Sciences, Professor Yerzhanov Kazbek Bekmaganbetovich, and he is also the owner State scholarships of the Ministry of Education and Science of the Republic of Kazakhstan, state grant "Best University Teacher", Doctor of Biological Sciences, Professor Khozhamuratova Svetlana Sharafeddenovna.  
Currently, the Department of "Food Biotechnology" provides training on the three-level system "Bachelor-Master-PhD" in the specialty "Biotechnology". All three-level educational program accredited by the International Independent Agency IQAA. In the last 3 years in the General ranking of educational programs of the specialty "Biotechnology" is in the bachelor – 3d, 1st and 2nd place, master – 2nd and 3d place, PhD — 1st place in the Republic.
Educational trajectories:
| | | |
| --- | --- | --- |
| Bachelor's degree program | Master's degree program | PhD program |
| "Food Biotechnology" | "Food Biotechnology" | "Food Biotechnology" |
| "Biotechnology of microorganisms, plants, animals" |   |   |
| "Pharmaceutical biotechnology" |   |   |