The Faculty of "Food Technologies" (FPT) is an educational, scientific and administrative-structural subdivision of the Almaty Technological University, which provides training in several educational programs, as well as management of research activities of departments and laboratories belonging to the Faculty.
The teaching staff of the faculty are true professionals in their field, leading scientists of the country in the field of food and processing technology, chemical technology, food safety.
The regional divisions of the State Grant of the Ministry of Education and Science of the Republic of Kazakhstan "The best University teacher" are teachers of the faculty Istaev A.I. Alimardanova M.K., Tausarova B.R. Kurmanaliev M.K. Lesova J.T. Iskakova G.K., Uazhanova R.O. Zhienbaeva S.T., Dikhanbayeva F.T. Suleimenova M.Sh., Kozybayev A.K. Ongarbayeva N.O., Maldabekova B.J. G. Abzhanova Sh.A. Taeva A.M., Baibolova L.K., Baigazieva G.I. Shansharova D.A. Uzakov Y.M. Nabieva Zh.S., G. Kenenbai. Sh.Y. Matibaeva A.Y., Shayakhmetova Y.Sh. Akhmetova S.O. Bayysbaeva M.P., Batyrbaeva N.B. Jetpisbayeva B.Sh. Boobanov A.J.
COMPOSITION OF THE DEAN'S OFFICE OF THE FACULTY: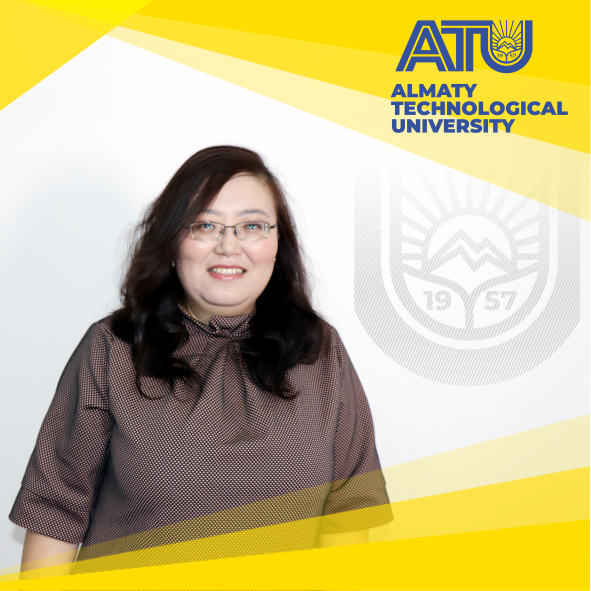 Izembayeva Asel Kamalseitovna — Deputy Dean for Academic Affairs, PhD
Email: a.izembaeva@atu.kz
Kazangeldina Zhanna Bakhytzhanovna — Deputy Dean for Educational Work, Master of Science
Email: zhanna_kb@mail.ru
Address: st.Rayymbek 348/4, building 2-А, office. 302, 308
Telephone: 396-71-33, вн. (111,112)
Email: dekanat.fpp@mail.ru
Instagram page: fpt.team_atu  
The Faculty provides training in the 3-level Bachelor-Master-PhD system for groups of educational programs: Food Production, Standardization, certification and Metrology (by industry), Biology and Related Sciences, Chemical Engineering and Processes, Environmental Protection, Animal Husbandry.
The educational programs "Technology of food products" and "Technology of processing industries" have successfully passed international accreditation in the ASIIN Agency (Germany) with the right to award the "Euro-Engineer" (EUR-ACE ® ) badge.
The faculty has a modern material and technical base, educational and scientific centers have been created for all educational programs, where not only training sessions are held, but also practical skills in the production of certain products are instilled
Bachelor course
Group of educational programs

Educational program

Educational trajectory

In 068 Food production

6B07201- Food technology

1. technology of public catering and special purpose products;

2. Technology of meat and fish products;

3. Technology of milk and dairy products;

4. technology of canned food and food concentrates;

6B07202-Technology of processing industries

1. Technology of processing, storage and processing of grain

2. Technology of bread, pasta and confectionery

3. Fermentation technology and winemaking

B 076 Standardization, certification and Metrology (by industry)

6B07501 –Standardization and certification

1. Metrological support of production facilities

2. Quality management of products, processes and services

B 050 Biology and related sciences

6B05101- Biotechnology

1. Food biotechnology

2. Biotechnology of microorganisms, plants and animals

3. Pharmaceutical biotechnology

B 060 Chemical Engineering and Processes

6B07101 -Chemical technology of organic substances

1. Chemical technology of organic and petrochemical production

2. Chemical technology of polymer production and processing

B 051 Environmental protection

6B05201 -Ecology

1. Environmental monitoring

2. Environmental management

B078 Animal Husbandry

6B08201-Technology of production of animal products

1. Technology of non-food products of animal husbandry

2. Technology of food products of animal husbandry
Magistracy
Code and classification of training areas

Number and name of the group of educational programs

Name of the OP

7M051 Biological and related sciences

М082 Biotechnology

7М05101 Biotechnology (scientific and pedagogical direction)

7М05161 Biotechnology (profile direction)

7М05102 Ecobiotechnology and environmental management (scientific and pedagogical direction)

7М05132 Ecobiotechnology and environmental management (profile direction)

7М071 Engineering and Engineering

М097 Chemical engineering and processes

7M07101 Chemical technology of organic substances (scientific and pedagogical direction)

7M07131 Chemical technology of organic substances (profile direction)

7M07102 Environmental Protection Technology (scientific and pedagogical direction)

7M07132 Environmental protection Technology (profile direction)

7М072 Manufacturing and processing industries

М111 Food production

7M07201 Food Technology (scientific and pedagogical direction)

7M07261 Food technology (profile direction)

7M07202 Technology of processing industries (scientific and pedagogical direction)

7M07262 Technology of processing industries (profile direction)

7M07203 Food Safety (scientific and pedagogical direction)

7M07263 Food safety (profile direction)

7М075 Standardization, certification and metrology (by industry)

М130 Standardization, certification and metrology (by industry)

7M07501 Standardization and certification (in the food industry) (scientific and pedagogical direction)

7M07531 Standardization and certification (in the food industry) (profile direction)

7M07502 Metrology (scientific and pedagogical direction)

7M07532 Metrology (profile direction)
Doctoral studies
Code and classification of training areas

Number and name of the group of educational programs

Name of the OP

8D051 Biological and related sciences

D082 Biotechnology

8D05101 Biotechnology

8D071 Engineering and Engineering

D097 Chemical engineering and Processes

8D07101 Chemical technology of organic substances

8D07102 Environmental protection technology

8D072 Manufacturing and processing industries

D111 Food production

8D07201 Food technology

8D07202 Technology of processing industries

8D07203 Food safety