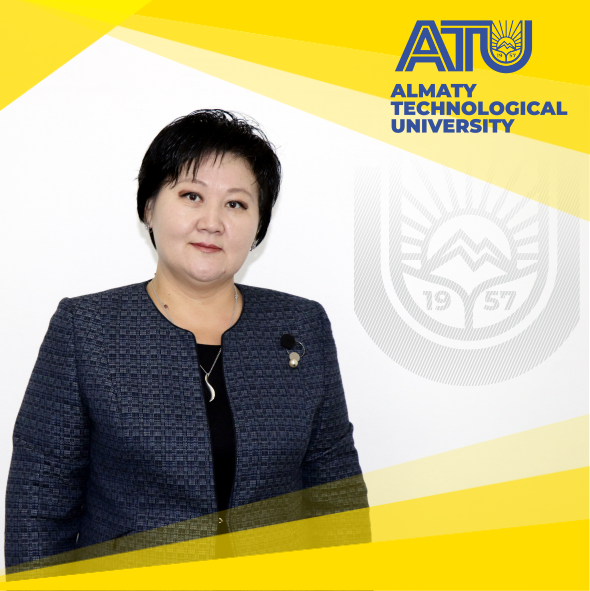 Dean of Faculty
Zhaksylykova
Gulshat
Nurmakhanbetova
Dean of the Faculty of Food Technologies,
Candidate of Technical Sciences, Associate Professor
Email: g.zhaksylykova@atu.kz
One of the important decisions that a person makes in life is the choice of a profession. Your future depends on the right educational program. The main thing is that the profession you have chosen should be to your liking and be in demand.
Today, almost all manufacturers of the food and processing industry are interested in qualified technologists who are able not only to carry out quality control from the receipt of raw materials to the packaging of finished products, but can develop and successfully implement effective technologies in various industries and at different stages of product creation.
Graduates of the faculty are ready for professional activity at food and processing enterprises, are focused on grain processing enterprises, bakery, pasta, confectionery, dairy, meat, fish industries, work at alcohol, distilleries, wineries, breweries, enterprises for the production of soft drinks and wholesale sales of products, design organizations, research and development research and testing centers and laboratories, certification and identification services for raw materials and finished products, trade and tax inspections and other regulatory bodies for the production and turnover of food products, as well as at petrochemical enterprises.
Energetic technology professionals who have good engineering training, speak a foreign language, and have a modern worldview are always in demand. Studying at ATU, you will have a decent training in both the industrial and scientific fields as well.
Our doors are always open for you!
The faculty of food industry provides three-level training: bachelors, masters, PhD, as well as fundamental and applied research.Improving the quality of training, integration of science and education are priorities for the faculty of food production.