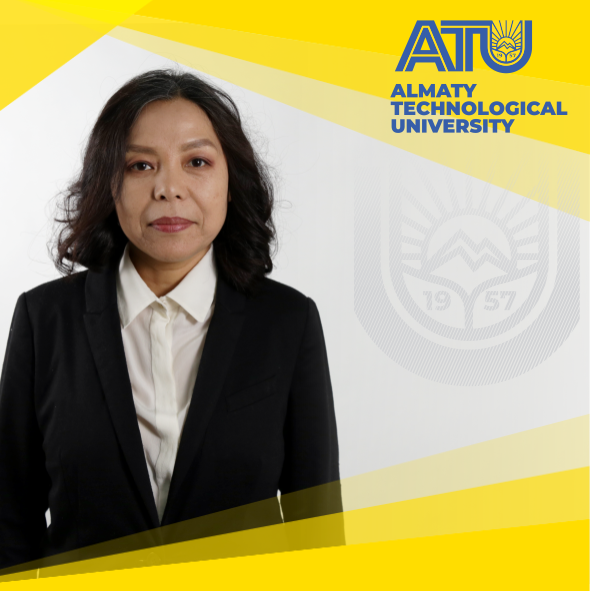 Akashkyzy Gulmira
Principal Institute for advanced studies and retraining of personnel ATU
Inzhu Tleulinova Bisenbaevna
Methodist Institute for advanced studies and retraining of personnel ATU
By the learning process involved leading scientists and experts, who have extensive scientific and pedagogical and practical experience, were trained on advanced food processing, processing, light and textile industry, catering the Republic of Kazakhstan and abroad.
Educational programs of training courses designed with innovation taking place in science, education, manufacturing and labor market needs, competency approach to learning outcomes, the requirements of professional standards and industry qualifications framework and thus practice-oriented.
Teachers provide a full package of distributing materials and lectures form the necessary documentation.
Training sessions are held in special, with modern equipment, educational and scientific production mini-workshops of of ATU:
The center of the bread;
The center for the production of pasta,
The center of the meat processing,
The center for milk processing,
Research center "The quality and safety of food products"
Laboratories "Microbiology", "Quality Control of raw materials and finished food products"
Training restaurant, and also in the laboratory "Technology products catering", "Technology of milk and dairy products", "Technology of meat and meat products", "The technology of processing of grain", "Technology of bread and pasta production», «Technology of Fermentation and Winemaking", center on innovative challenges and product safety and products textile and light industry.
The research center "The quality and safety of food products" classes to acquire skills on modern instruments to determine the quality parameters of food products.
Classes are held in the Kazakh, Russian and English specialists, trained in the universities of Europe.
The advantages of our training are:
The high quality of the organization and conduct of the educational process;
Operative the formation of groups on the applications received, the maximum customer satisfaction;
Variety of forms and methods of training, including conducting studies on the educational and scientific production centers of the university.
After the end of training and passing the exam students receive a standard document.
Our audience:
Specialists of middle and senior managers of enterprises of food and processing industries (the apparatchiks, operators, technicians, technologists, technicians, laboratory technicians, craftsmen, technicians, engineers);
Specialists of middle and senior managers of public catering and service industry (employees of public catering: cooks, bartenders, waiters, managers of production, technologists, engineers, administrators);
Specialists of middle and senior managers of textile and light industries (Weaver, seamstress, Pattern cutting designer, fashion designer, tailor-wagon-tailor seamstress, fashion designer, seamstress, tech-fashion designer clothes, technician weaving, technicians- technologies for the production of nonwoven materials technologist garment production, the operator of the sewing equipment knitted and textile haberdashery, sewing equipment adjuster assembling equipment companies, technician-mechanic);
Heads of the enterprises of food and processing, textile and light industry, service industry and hospitality;
Teachers, researchers, doctoral students, undergraduates specialized universities and colleges.