CENTER FOR INNOVATIVE EDUCATIONAL TECHNOLOGIES
                                        General Provisions
The Center for Innovative Educational Technologies (CIET) is a structural unit of the Almaty Technological University. CIET carries out its activities in accordance with the Law "On Education", SES, the Resolution of the Government of the Republic of Kazakhstan, legal and regulatory acts of the Ministry of Education and Science of the Republic of Kazakhstan, orders of the rector of JSC «ATU». The Center includes the Department of E-Learning (DE), the Department for the Development of Digital Educational Resources (DDER).
                                              Basic goals
 – Adaptation of the educational system to the digital generation through the active and effective use of ICT-based innovative educational technologies.
 – The provision of highly qualified educational services for additional educational programs, the dissemination of innovative pedagogical experience based on the use of modern pedagogical and ICT in the educational process.
 – Ensuring the position of JSC «ATU» in the national, European and world educational space. 
                                              Main goals
Implementation of innovative educational technologies in ATU.
Creation and periodic updating of the database, catalog of CIET.
Maintaining a platform of innovative educational technologies.
Authorization of access to digital educational resources, mass open online courses.
Providing informational and methodological support.
Organization of courses and seminars to support the innovative orientation of the professional and personal development of teaching staff, undergraduates and students of ATU.
Systematization of innovative pedagogical experience, development of new approaches to the implementation of the tasks of pedagogical theory and practice, taking into account trends in the development of the educational space.
Broadcasting innovative experience in the practice of the region: organization of courses, seminars, trainings, round tables, etc. according to the needs of subjects of the market of educational services.
Promote the equipment of lecture halls, and later, laboratories, interactive presentation systems and laptops.
Present innovative educational technologies used in ATU to expert groups, official guests at the national and international levels, etc.
Conduct research revealing the true benefits of the introduction of innovative educational technologies.
Participate in the organization and conduct of international, national seminars and conferences on the digital transformation of education.
Make extensive use of innovative educational technologies, adapting them to the conditions of ATU.
Provide training for teachers and young scientists in the field of innovative educational technologies.
To popularize innovative educational technologies, including virtual educational models with the help of individual lectures, courses, seminars, etc.
Continuously monitor new competitions for financing projects related to the digital transformation of education, according to national and European programs and inform all faculties and departments in a timely manner; initiate the participation of ATU in such competitions.
Constantly update the content of the CIET.
To popularize the activities of the CIET in social networks.
To ensure the development of an academic network for the exchange of experience and best practices in the field of innovative educational technologies and didactic models.
To develop and accompany distance learning technologies in ATU
Fill the catalog of innovative educational technologies and didactic models with modern developments in the field of theory and methods of teaching disciplines using digital technologies.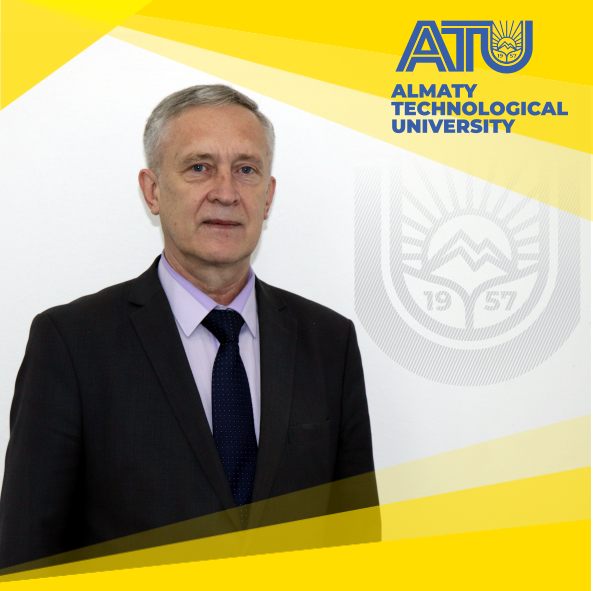 Director of the Center for Innovative Educational Technologies
Medvedkov Yevgeniy
Doctor of teehnical science, professor
Telephone: +7 727 396 71 33 inter.160
E-mail: e.medvedkov@atu.edu.kz

Adaptation of the educational system to the digital generation through the active and effective use of CIET – oriented innovative educational processes
The Center for Innovative Educational Technologies applies the latest technologies in science and education, supports and improves the effectiveness of the quality management system in ATU
Modernization of the content of higher and postgraduate education, the provision of highly qualified educational services for additional educational programs